Wine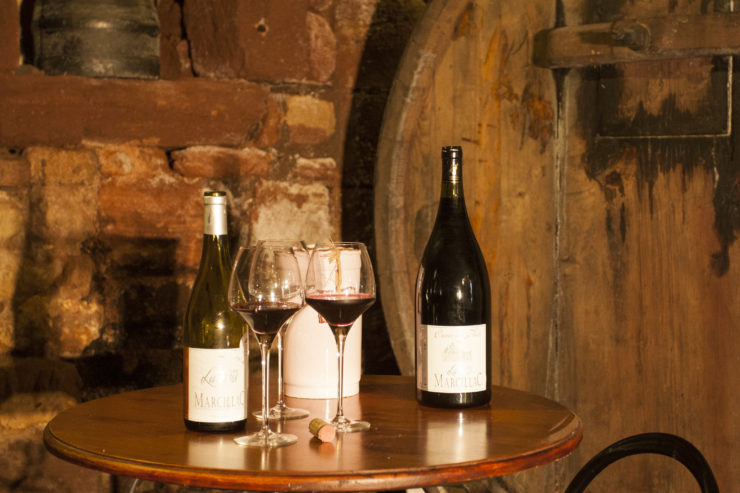 Marcillac – 38 km
Marcillac is an AOC wine produced in the region of Marcillac-Vallon, just north of Rodez. Most of the production is red, but there is also some rosé. Recently some producers have launched white wines but these do not benefit from AOC status. The reds, produced from the fer servadou (mansois) grape, are tannic and well suited to most British palates. Some are oak aged and all share a characteristic nose of raspberry and blackcurrant.
Marcillac goes well with local dishes such as aligot with sausage or tripoux as well as with all grilled meats (Ségala veal chops, Aubrac beef steaks or pork) and with local hard cheeses (laguiole, salers or cantal).
Follow the link below to discover the Marcillac "Route des vins" (in French and English).
Gaillac – 70 km
Gaillac is an AOC wine whose production spans both sides of the River Tarn. The town of Gaillac itself is 18 km from Albi and 50km from Toulouse and the area of wine cultivation is spread over 60 km².
Gaillac produces many different types of wine; red, rosé and white, both dry and sweet, sparkling and semi-sparkling (perlé). Each type will accompany different dishes. The reds go well with charcuterie, red meats and cassoulet. The rosés are summer wines, perfect for barbecues, salads and pizzas while the whites partner fish, shellfish and regional goats cheeses (cabécou, raocamadour).
You can find out more from the link (in French):
Cahors – 83 km
The dark red wine of Cahors is probably the local wine which is best known in Britain and the USA. It has protected status (AOP). The wines are produced to the west of the town of Cahors, exclusively from the malbec grape (also known as cot or auxerrois).
These wines go particularly well with red meats and hearty stews.
You can find out more from the link (in French):
Cheese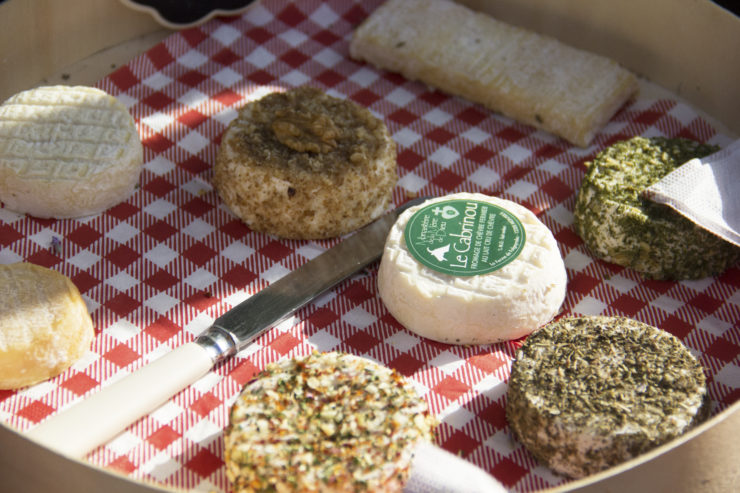 Roquefort
This cheese from the south of Aveyron is famous throughout the world and has protected AOP status. Made exclusively from unpasteurised ewes' milk, it is aged in underground caves where it develops its distinctive blue mould and its unique tangy taste.
Full of character and tradition, it is equally at home spread on a slice of good country bread as in numerous recipes of haute-cuisine.
Cantal
Cantal is produced throughout the dépaertement of Cantal but also in 8 communes in the north of Aveyron. It is a pressed uncooked cows' milk cheese which must be aged at least 30 days to obtain the Cantal appellation. Such cheese would be called "jeune" (young), but two other ages exist, "entre-deux" (between the two) ripened for between 3 and 7 months and "vieux" (old) which has to spend a minimum of 8 months ageing.
Whether accompanied by a slice of bread, grated over a pizza or in a potato gratin, there are 1001 ways to enjoy it!
Dishes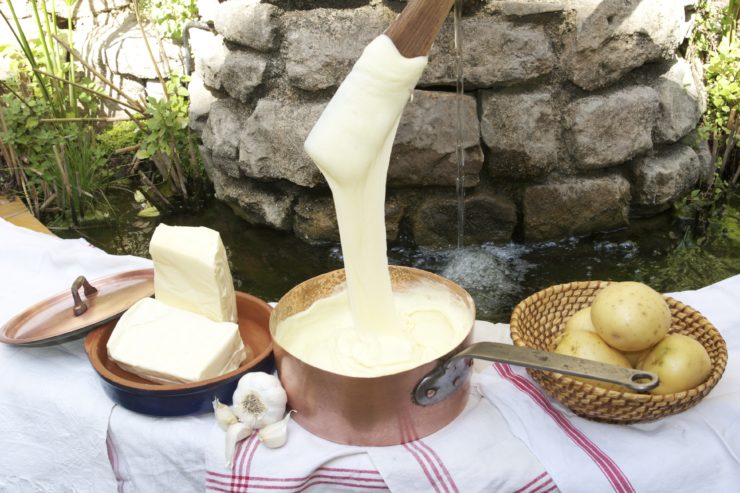 Aligot
Alligot is THE signature dish of Aveyron, a purée made from potatoes, "tomme fraiche or tomme d'aligot" cheese, cream, butter and garlic.
Originally from the Aubrac in the north of Aveyron, this former subsistence meal has become a favourite dish for village fêtes, parties and celebrations, accompnied by locally produced grilled meat.
A little story: in the 12th century many pilgrims crossed through the Aubrac, following the route to Santiago de Compostela. In the monastery, the monks fed themselves on "something or other, this and that" ("aliquid" in Latin), a mixture of cheese and breadcrumbs, which gave them back their strength and their courage.  In the 18th century, following a poor wheat harvest, the bread was replaced by potato purée.
Tripous
Please read on! It may be tripe, but not as you know it! For many years "les tripous" have been the traditional dish of the Ségala. Called "trénels" in the Millau region and "petites" (the little ones) around Espalion, they became the everyday staple for a Sunday morning snack. Tripous are made from lamb or veal stomach, stuffed with ham, parsley and garlic and cooked in a veal stock laced with white wine. They are served with aligot or truffade or sometimes simply with jacket potatoes. Delicious!